Frontier label
A custom solution for a custom manufacturer
We greatly appreciated the thorough explanation of the factors that went into our design decisions. It was a pleasure working with you and I am appreciative of the opportunity.Jonah Messina
Frontier Label is a custom label manufacturer that prioritizes quality products, excellent customer service, and quick turnaround times. When Frontier Label approached Faculty about a redesign of their site, they already had a thriving business but saw opportunities to improve their level of service while growing the business and brand.
They had an existing website, but they had a problem: Many of their customers were choosing to call customer service rather than navigate the complex and confusing online label customization process. They quickly realized that a well executed redesign of their marketing site and order customizer were what they needed to better serve their customers and remove pain points for everyone.
The work
Our goal was to redesign all of Frontier Label's web presence with an emphasis on showing product offerings better, prioritizing a flawless customer experience for order configuration, and an overall elevation of their brand. We dove into their marketing strategy, learned about their customer base, and set off to work.
All of our work starts with an individualized strategy that best suits the project at hand. Good work needs to be functional as well as beautiful, sustainable, and scalable. Through deep collaboration with Frontier Label's marketing team, we learned about their market segments and customer base. From there, we identified areas for improvement and began formulating solutions. Once we knew more about their growth goals, we began our redesign of the marketing, specifically on high traffic product pages, and rebuilding the custom label configurator to prioritize clear and easy order placements.
Our goal for the customizer was to design a UI that helps empower customers, making it easier for customers to understand the process and choices, and — for those who need personal assistance — receive a white-glove experience that helps them learn how to order the perfect custom label for themselves next time.
In addition to redesigning the site we also art directed a photoshoot to have Frontier Label's main product offerings redone for better presentation on the site. For the photography we worked with Levi Monday and were extremely pleased with the end results.
The results
Frontier Label's new website elevates their refreshed brand, displays their products better, and flawlessly walks customers through custom orders. Customers can now confidently create custom orders knowing they are getting exactly what they need and with the quality that Frontier Label is known for.
Before

After

Before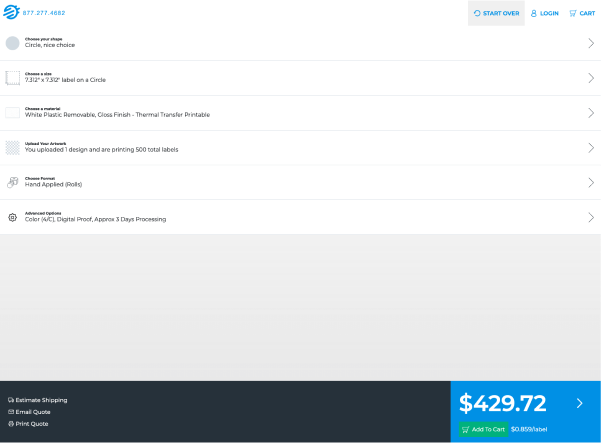 After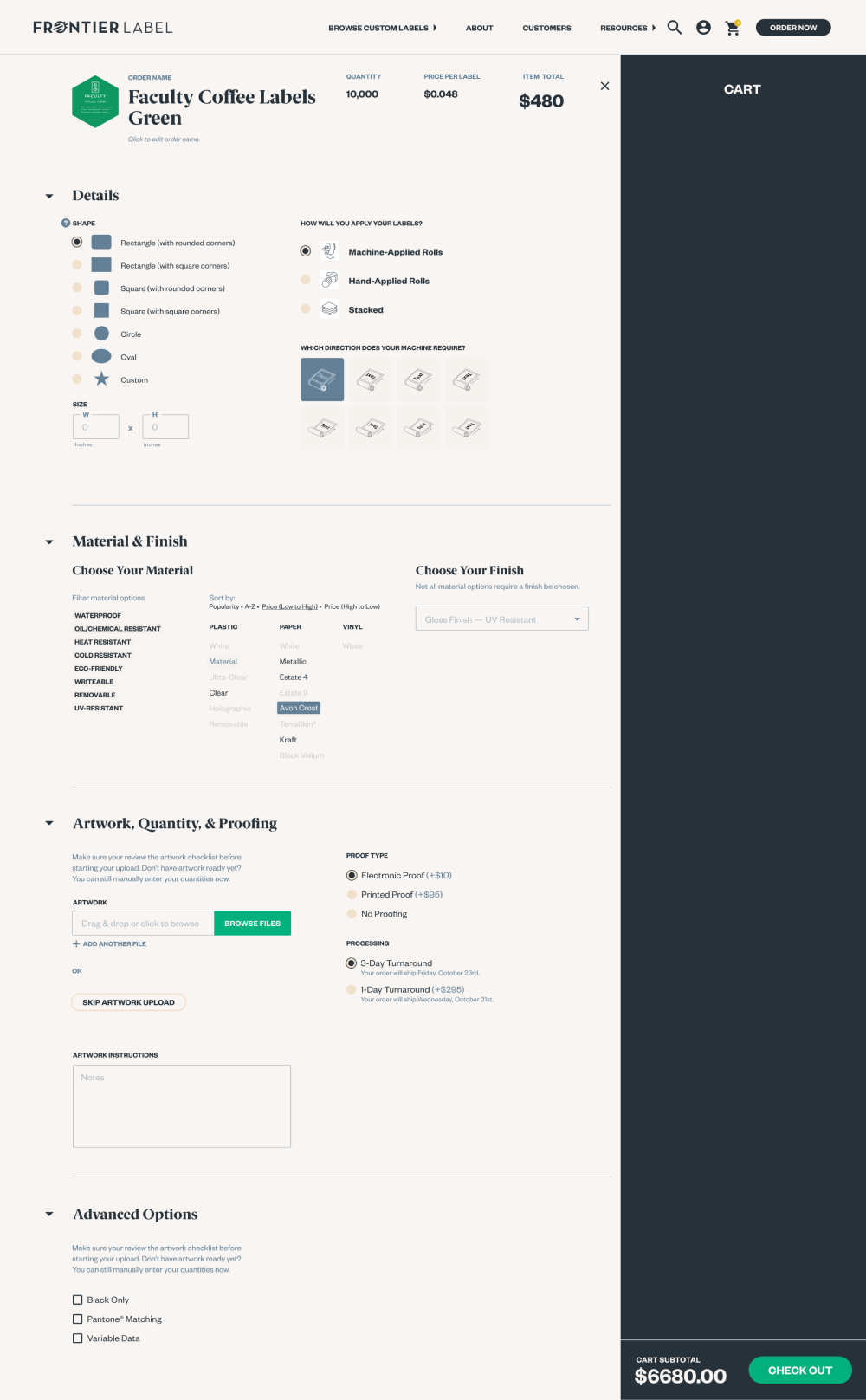 Thank yous
Redesigning the custom label configurator for Frontier Label was a blast for the Faculty team. We were able to combine our decades of experience with complex ecommerce and print experience to understand the product intimently to build amazing solutions that were practical and functional. We are glad they came to us from this proejct and as always, we are appreciative for the opportunity to good work for great clients.
We are all very excited and pleased with the end result. Hoping we can work together again in the future.Jonah Messina
Contact
Faculty is a friendly, experienced team here to help you with digital strategy, design, and development. We'd love to hear about your project.
Send us a message and let us know how we can help.